Between 2018 and 2019, WVPubFest AND WV Collective have donated $10,000.00 to WV Public Broadcasting!
In 2020 WVPubfest will once again bring together some of the state's most talented artists to help fund WV Public Broadcasting, and upcoming WV Collective projects.  We can't do it without help from our local community partners.  Check out the sponsorship levels below and find the right way for YOU to be a part of the WVPubfest family!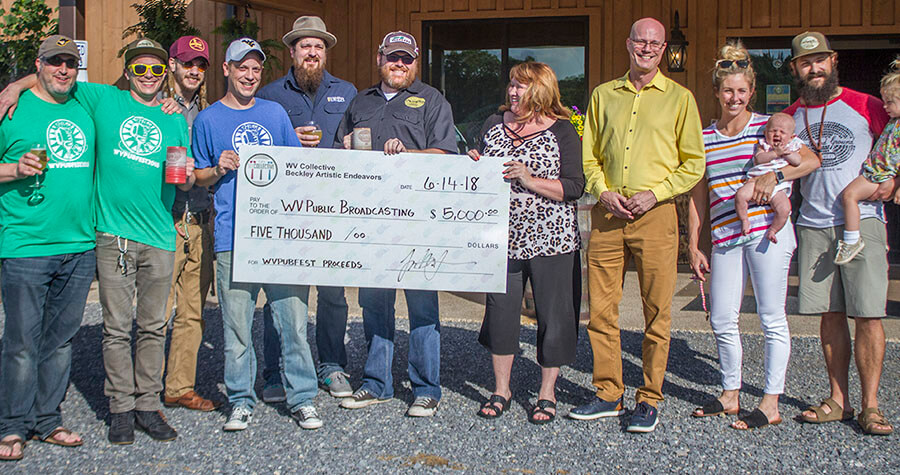 Our Mission
This is a day for musicians to celebrate other musicians, and for West Virginians to celebrate everything their state has to offer. We hope to provide an environment for collaboration between performers and a relaxed, family friendly environment for music, food, and craft beer fans from all walks of life to come together for some great music and to support WV Public Broadcasting, WV Collective, and the local arts community.


WV PubFest Sponsorship Levels
WV Collective and it's partners pledge to continue our support of West Virginia Public Broadcasting – in addition to promoting performance art throughout the Mountain State.  We couldn't do it without help from our community, so we're offering you a chance to help make our mission a reality.
Rock Star
$1200
Rock Star Sponsor Will Receive:
15 Tickets to WVPubfest
Official WVPubfest Poster
2 Free WVPubfest 2020 T-Shirts
Banner on Stage
Logo and Links on Website
Logo and Links on All Social Media
Mention in All Advertising Material as "Presented in part by _______________"
Roadie
$900
Second Stage Sponsor Will Receive:
10 Tickets to WVPubfest

Official WVPubfest Poster

2 Free WVPubfest 2020 T-Shirts

Banner on Festival Site (provided by sponsor)

Logo and Links on Website

Logo and Links on All Social Media

Mention in All Advertising Materials
Groupie
$400
10 Tickets to WVPubfest

Official WVPubfest Poster

Banner on Festival Site (provided by sponsor)

Logo & Links on Website

Logo & links on Social Media
Fan
$250
5 Tickets to WVPubfest
Official WVPubfest Poster
Logo and Links on Website
Logo and Links on All Social Media
Drummer
$100
2 Tickets to WVPubfest

Official WVPubfest Poster

Logo & Links on Website

Logo & links on Social Media